"Kotzur wants to work with suppliers to achieve the best outcome for both businesses… So, it's a win-win."
Kotzur are a leading manufacturer of bulk solids storage and handling facilities for the agricultural, mining and manufacturing sectors. Established over 60 years ago, this third-generation Australian family-owned and operated business is based in Walla Walla NSW, approximately 40km north of Albury. An additional manufacturing plant is located in Toowoomba. Kotzur also has a presence in Moree and Perth.
Agriculture is Kotzur's predominant focus, with complete solutions for grain storage and grain handling. Kotzur manage and install projects all over Australia and internationally, including for some of the biggest grain corporations across Australia such as GrainCorp and CBH, and local farmers.
BlueScope Distribution is proud to be a long-term supplier to Kotzur. James Wheeler, Business Development Manager, BlueScope Distribution explains "Kotzur are market leaders in silo quality and innovation. They need quality steel products to match and that's where BlueScope Distribution comes in. They're proudly an Australian brand. Their brand promise is all about customer service and product integrity in what they make and supply, which is where BlueScope Distribution complements Kotzur perfectly."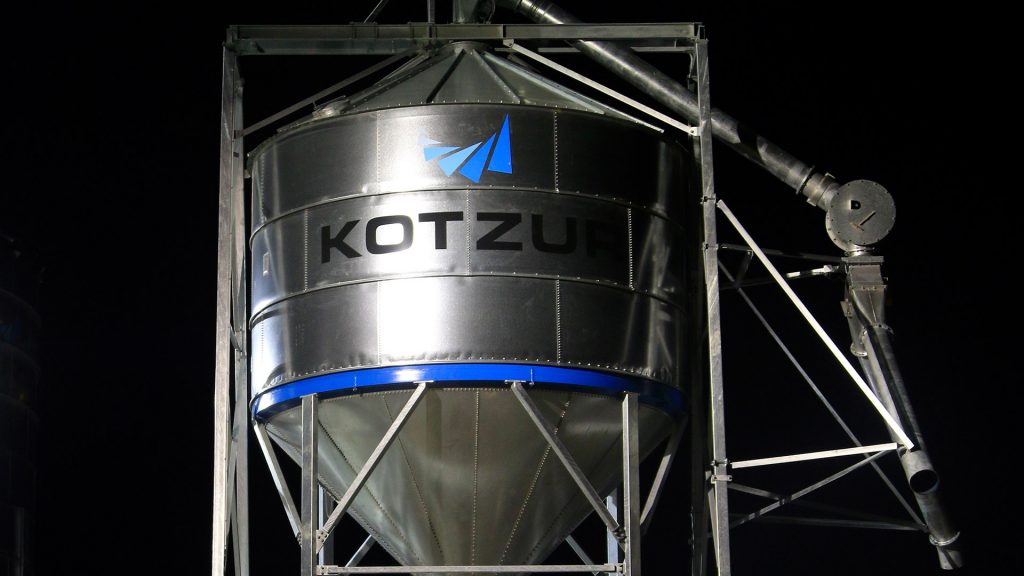 Prosperous supplier relationships
Kotzur is registered to use the "Australian Made" logo and "actively support Australian manufacturing and procure locally made materials where possible" says Group Chief Financial Officer, Wayne Nagle.
Not only does this support the Australian economy but it also offers assurance that our products comply with strict Australian quality, safety, sustainability and ethical manufacturing policies and procedures.
"When you buy locally, you know you are dealing with the people that design, manufacture and continue to support the product. This also allows us to form better relationships with our suppliers, to work closely together and grow."
Kotzur values BlueScope Distribution's effort to build their relationship to foster open and honest conversations. "Our relationship with Kotzur is open and transparent, with no surprises," says James. "We work through challenges together to find the right solutions. We have an ongoing, prosperous relationship, and if they need our support with product development and innovation, we more than deliver with our tailored solutions."
Embedding lean manufacturing
The BlueScope products Kotzur sources through BlueScope Distribution include GALVABOND® steel, ZINCALUME® steel, XLERPLATE® steel and TRUSPEC® steel. Rectangular Hollow Sections and Structural steel products are also sourced from BlueScope Distribution.
All these products are used for the manufacture of Kotzur's silo range. BlueScope Distribution also assists with product forecasting, to help Kotzur navigate the volatile steel market, and manage stock controls and cost.
A key feature of Kotzur and BlueScope Distribution's partnership is JIT (Just In Time) delivery and consignment stock. BlueScope Distribution holds floor stock and delivers it on an "as needs" basis, with the reassurance stock is readily available.
"During COVID, BlueScope Distribution really looked after us and made sure we weren't going to run out of product. They held stock and made sure inventory was readily available, this in turn ensured our production team was not impacted," says Wayne.
"JIT deliveries and consignment stock frees up Kotzur's floor space and helps with cash flow. The custom lengths supplied don't need to go through an MOQ (Minimum Order Requirement) process, meaning the product is delivered at the right place and the right time. And our plasma beamline supports the Kotzur team with innovation design work, reducing production time and eliminating waste. We always see where we can add value to complement their business," explains James.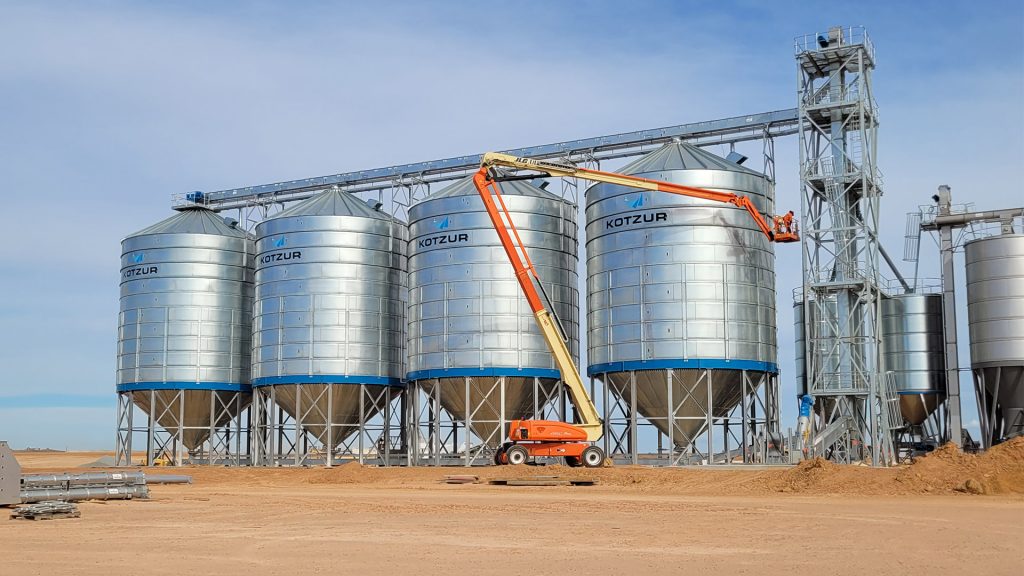 Australian innovation in silo design
As a market leader, it is imperative Kotzur products are leading edge and at the forefront of technology.
BlueScope Distribution recently installed their new plasma beamline in Albury, which is capable of cutting, notching, drilling, marking, and preparing steel products for next step welding and production. "Helping produce one of Kotzur's prototype leg designs has allowed them to build taller silos than ever before. This innovative silo design has pushed the boundaries for what's possible and is cost effective to manufacture" says James.
This complex processing solution was a partnership between Kotzur and BlueScope Distribution. It was first designed by Kotzur's engineering team, then programmed and tailored to run through the plasma beamline. BlueScope Distribution cut all of the leg material to size, importantly nesting parts efficiently to minimise waste to deliver fit for purpose parts for the Kotzur production team. After a few trials and alterations by the BlueScope Distribution operations team, the leg pieces were processed and delivered to Kotzur, ready for welding and production.
James explains "until we utilised the deliverables of our beamline, Kotzur used an angle grinder, taking eight hours of manual labour per leg. When we processed these products on the beamline, the flame cut, and bevel finish delivered high-quality parts to Kotzur removing a significant amount of time out of their production process. All parts were efficiently nested to minimise waste; we knew our solution hit the mark."
Strong community ties
Kotzur's ingrained values of respect, integrity, fairness, care, innovation, and prudence are lived every day. Wayne says "we try to treat others in the way that we ourselves would like to be treated".
Our business focuses on serving its people, customers, stakeholders, and none more so than the communities we associate with".
With close to 20 per cent of Kotzur's Walla Walla workforce sourced from the 700-odd people town, second-generation Andrew Kotzur is passionate about supporting, building and taking care of the local community.
As for the future, Kotzur will continue to expand by investing in research and development, new premises interstate, the latest technology and modern plant and equipment.
And with BlueScope Distribution and Kotzur both focused on providing quality products, they are formidable partners. Wayne remarks "Kotzur wants to work with suppliers to achieve the best outcome for both businesses…So, it's a win-win. We'll look after our suppliers if they look after us".